farmersmanual — nullgerät — tokinogake 21
Last update: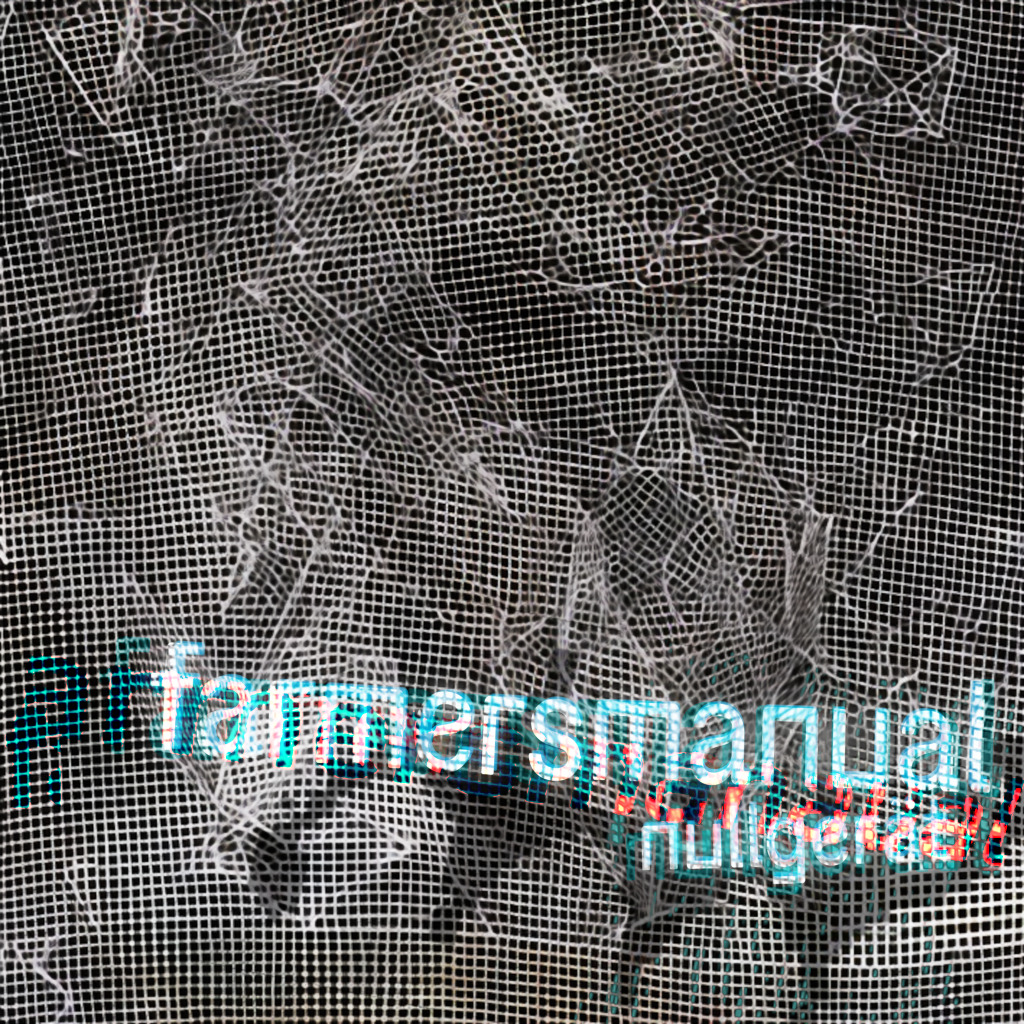 farmersmanual — nullgerät — tokinogake 21
https://tokinogake.bandcamp.com/album/nullgera-t
"Nullgerät," the latest offering from Farmers Manual, is a perplexing but ultimately optimistic journey into the world of experimental music. Concocted by an AI fed with recent live archive material, the album is a chaotic mixture of sound and noise that may leave listeners feeling initially confused, but ultimately suggests a deeper meaning.
credits
released March 25, 2023
Ideated, written, performed, curated, trained, generated, selected, discarded, artwonked and generally hacked on by farmersmanual.
Audio mastered by IKTS ikts.bandcamp.com
Thanks to Marco Pasini for Musika model (Fast Infinite Waveform Music Generation), the BLOOM autoregressive Large Language Model (LLM), Andi Pieper for GPU & infrastructure, a0n0 and tokinogake for "prompting" and hosting this selection, and everyone else for your kind support.
tracklist
| | | duration |
| --- | --- | --- |
| 1. | 🎶 𝓉𝒽𝑒 𝓈𝓉𝑜𝓇𝓎 𝓁𝒾𝓃𝑒 | 07:00 |
| 2. | 🎶 《🕯️🔮🎵》 𝕿𝖍𝖊 𝕯𝖊𝖇𝖔𝖜𝖍 𝕰𝖓𝖉𝖊𝖎𝖙𝖎𝖔𝖓 | 03:11 |
| 3. | "⚉⚂❣✨⚁⚅" | 01:00 |
| 4. | "🗜️💡⚙️🔮" | 01:00 |
| 5. | 🎶 《🌌🔊🎶》 𝒯𝒽𝑒 𝒶𝓃𝒹 𝓃𝒶𝓃𝒹𝒶𝓉𝒶𝓃 𝒾𝓃 𝓉𝒽𝑒 𝒻𝑜𝓁𝓁 | 03:03 |
| 6. | "❃✝️🛢️🌐" | 01:00 |
| 7. | "⚡️🔧⏰⛓️" | 01:00 |
| 8. | "🌪️⚖️⚙️💥" | 01:00 |
| 9. | "❄️💊⚒️🚀" | 01:00 |
| 10. | "💩💬💊🕸️" | 01:00 |
| 11. | "💔🔬🎧🎛️" | 01:00 |
| 12. | "⛓️🎛️⛓️⛔️" | 01:00 |
| 13. | 🎶 《🔬🎛️🎵》 𝓃𝑜𝓉𝒶𝓉𝒾𝑜𝓃 𝒾𝓃 𝓉𝒽𝑒 𝒻𝑜𝓁𝓁 𝓃𝑜𝓉𝒶𝓉𝒾𝑜𝓃 | 03:00 |
| 14. | 🎶 《💡💥🎶》 𝓇𝒶𝓂𝓅𝒹 𝒻𝑜𝓁𝓁𝒾𝓃𝑔 𝓃𝑜𝓉𝒶𝓉𝒾𝑜𝓃 | 02:35 |
| 15. | "⚡️💰💤💈" | 01:00 |
| 16. | 🎶 《🎹🔮🎶》 𝓃𝑜𝓉 𝒻𝑜𝓁𝓁 𝓉𝒽𝑒 𝒷𝑜𝒶𝒹𝓃𝑒 | 02:59 |
| 17. | "💊📁💔💢" | 01:00 |